Are you tired of using mainstream music production software and looking for something new? Are you interested in exploring a more versatile and open-source option? Look no further, because today we are going to introduce you to some of the most powerful Linux music production tools available. These tools are designed specifically to cater to the needs of musicians and producers who are looking for a unique and innovative approach to music creation. Whether you're just starting out or are a seasoned professional, these Linux music production tools can take your musical journey to the next level. So, get ready to discover the ultimate Linux music production tools today!
Table of Contents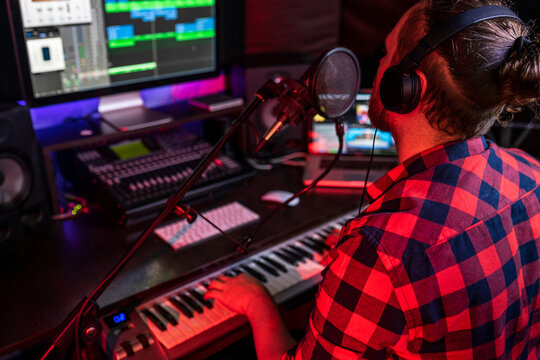 Introduction to Linux Music Production: Exploring the Possibilities
Linux music production is a rapidly growing field that offers a range of possibilities for musicians and producers alike. With the rise of open-source software, there are now more music production tools for Linux than ever before. Whether you're a seasoned professional or just starting out, Linux-based software can provide you with the tools you need to create high-quality music.
One of the biggest advantages of using Linux for music production is the flexibility it offers. Unlike proprietary software, open-source programs can be customized to suit your specific needs. This means that you can tailor your setup to match your workflow and preferences, making it easier to create music that sounds exactly the way you want it to.
In addition to its flexibility, Linux also offers a range of powerful features that make it an ideal platform for music production. From advanced audio processing tools to support for multiple hardware interfaces, there's no shortage of options when it comes to creating music on Linux.
Overall, if you're looking for a powerful and flexible platform for music production, Linux is definitely worth considering. With its growing community of developers and users, there's never been a better time to explore the possibilities of music production software for Linux.
Top 5 Must-Have Music Production Software for Linux Users
Music production software for Linux has come a long way in recent years, and there are now several high-quality options available for Linux users. Here are the top 5 must-have music production software for Linux:
*Ardour: This digital audio workstation* (DAW) is a powerful tool for recording, editing, and mixing audio. It supports a wide range of plugins and is highly customizable.

*LMMS*: This free, open-source DAW is perfect for beginners or those on a budget. It includes a variety of built-in instruments and effects, as well as support for VST plugins.

*Bitwig Studio*: This commercial DAW offers a sleek interface and advanced features such as modulation workflows and hybrid tracks that combine audio and MIDI.

*Qtractor*: This MIDI-focused DAW is great for composing and arranging music. It includes support for LV2 plugins and can be used with external hardware.

*Rosegarden: This music composition and editing software is ideal for classical musicians or those working with sheet music*. It includes support for MIDI devices and can export to MusicXML format.
No matter what your needs are, there's a music production software for Linux that can help you achieve your goals.
A Comprehensive Guide to Setting Up Your Linux Studio for Seamless Audio Recording and Processing
Setting up your Linux studio for audio recording and processing is easier than you might think. First, you need to choose the right hardware and software components that are compatible with Linux. For instance, a good quality audio interface, microphone, and headphones are essential for capturing high-quality sound. Second, you need to install the necessary software packages such as Ardour, Audacity, and JACK Audio Connection Kit. These tools provide a range of features including multi-track recording, editing, mixing, and mastering. Third, you need to configure your system settings to optimize performance and reduce latency issues. This involves adjusting buffer sizes, sample rates, and CPU usage settings. Finally, you can start experimenting with different plugins and effects to enhance your sound quality further. With the right setup in place, you can achieve professional-grade results using music production software for Linux.
How Linux-based DAWs are Changing the Face of Music Production Today: An Insider's Perspective
Linux-based DAWs are becoming increasingly popular among music producers and engineers. These digital audio workstations offer a range of features and tools that are comparable to those found in proprietary software like Pro Tools or Logic Pro. One of the biggest advantages of using a Linux-based DAW is the open-source nature of the software, which allows for greater flexibility and customization. Additionally, many Linux-based DAWs are free or low-cost, making them accessible to a wider range of users. Some popular options include Ardour, Qtractor, and LMMS. These programs offer a variety of features such as MIDI sequencing, audio recording and editing, and plugin support. While there may be a learning curve for those new to Linux-based software, the benefits can be significant for those looking for an affordable and customizable music production solution.
Collaborating with Peers on Open Source Platforms: The Future of Music Production in the Linux Community
Collaborating with peers on open source platforms is the future of music production in the Linux community. With the rise of online collaboration tools, musicians can now work together on projects regardless of their location. This means that artists can share their work with others and receive feedback from their peers in real-time. The open-source nature of Linux-based music production software also allows for easy sharing and modification of projects.
One such platform is Ardour, a free and open-source digital audio workstation that enables users to record, edit, and mix audio tracks. Ardour's community-driven development model allows users to contribute code, bug reports, and feature requests, making it a collaborative effort that benefits everyone involved.
Another popular platform is LMMS (Linux Multimedia Studio), which offers a range of features including beat/bassline editor, piano roll editor, automation editor, and more. LMMS also has an active online community where users can share their projects and collaborate with others.
Overall, open-source platforms offer a unique opportunity for musicians to collaborate and create music together in a seamless manner. As more people become aware of these tools, we can expect to see an increase in the number of collaborative projects within the Linux music production community.
In conclusion, Linux-based music production tools are gaining popularity as more and more musicians and producers are embracing open-source solutions for their creative needs. With a plethora of options available in the market, it can be overwhelming to choose the right software that fits your requirements.
From industry-standard DAWs to plugins, synths, and effects processors – we've covered everything you need to set up your Linux studio for a seamless audio recording and processing experience. In addition, our insider's perspective on how these tools are changing the face of music production today is a must-read for anyone looking to explore this exciting field.
So why wait? Discover the ultimate Linux music production tools today and take your creativity to new heights! And don't forget to check out our other articles for more tips on mastering your craft.
Questions & Answers
Q.Who makes music production software for Linux?
A.Various developers offer music production software for Linux.
Q.What are some popular Linux music production software options?
A.Popular options include Ardour, LMMS, and Rosegarden.
Q.How do I install music production software on Linux?
A.You can install software via package managers or from the developer's website.
Q.What if I'm used to music production software on other operating systems?
A.Many Linux options have similar interfaces and features to other systems.
Q.Who can benefit from using Linux music production software?
A.Musicians, producers, and composers can all benefit from these tools.
Q.What if I'm not tech-savvy enough to use Linux software?
A.Many Linux music production options have user-friendly interfaces and tutorials.