The music industry has always been a tough nut to crack, and the path to stardom is often filled with challenges. However, with the rise of digital music production and streaming services, aspiring musicians now have more opportunities than ever before. And if you're looking to make it big in the world of music production, there's no better place to start than in college. With so many schools offering music production majors, it can be tough to know where to start your search. In this blog post, we'll take a closer look at some of the top colleges for music production and explore what makes them stand out from the rest. Get ready to discover your next step towards musical success!
Table of Contents
The Top 5 Colleges with Music Production Majors: A Comprehensive Guide
Colleges with music production majors are the perfect destination for students looking to transform their passion and creativity into a career. Here is a list of the top 5 colleges that offer exceptional music production programs:
Berklee College of Music: With its state-of-the-art technology, renowned faculty, and immersive curriculum, Berklee consistently ranks as one of the best music schools in the world.

Full Sail University: Known for its hands-on approach, Full Sail's Bachelor of Science degree in Music Production teaches students every aspect of audio engineering and music creation.

NYU Clive Davis Institute of Recorded Music: Located in New York City, this institute focuses on songwriting, recording techniques, entrepreneurship, and creating new business models within the ever-changing industry.

Belmont University Mike Curb College Of Entertainment & Music Business: This Nashville-based university provides students with opportunities to develop real-world skills while working alongside record executives and industry professionals.

University of Southern California Thornton School of Music Recording Arts Department: USC's prestigious program offers courses on recording technologies, sound design principles and mixing techniques that empower aspiring producers to pursue careers in film scoring or commercial music production industries.
Each college has something unique to offer based on location, course offerings or teaching methodology; but all provide excellent foundations for future success in music production majors!
Choosing the Right College for Your Music Production Career: Factors to Consider
When considering a college for a music production major, it's important to think about the curriculum and facilities offered. Look for programs that offer courses in recording, mixing, and mastering, as well as music theory and composition. Additionally, make sure the college has state-of-the-art recording studios and equipment for hands-on experience.
Another factor to consider is the location of the college. Look for schools in cities with thriving music scenes, as this can provide opportunities for internships and networking. It's also important to research the faculty teaching the program and their industry experience.
Lastly, consider the cost of tuition and any available financial aid options. Pursuing a music production major can be expensive, so it's important to have a plan in place for paying for college. Overall, taking these factors into consideration can help you choose the right college for your music production career.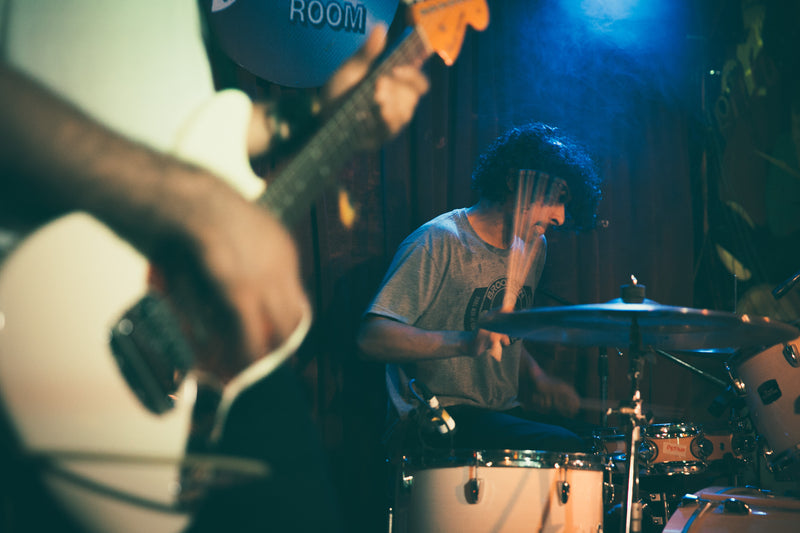 The Benefits of Pursuing a Music Production Major in College
A music production major in college offers numerous benefits for aspiring music producers. Firstly, hands-on experience with industry-standard equipment and software is provided, giving students a competitive edge in the job market. Additionally, students gain a deep understanding of music theory and composition, which can enhance their creativity and ability to produce high-quality music. Another advantage is the opportunity to network with industry professionals and fellow students, which can lead to internships or job offers after graduation. Moreover, many colleges offer internship programs with major record labels or production companies, providing students with real-world experience and connections. Pursuing a music production major in college can also lead to a more well-rounded education by exposing students to other aspects of the music industry such as marketing and business management. Overall, a music production major in college can provide invaluable knowledge and experience for those looking to make it big in the music industry.
Student Success Stories: How Music Production Majors from These Colleges Made it Big
Music production majors from these colleges have gone on to achieve great success in the industry. For example, Grammy-winning producer and engineer Al Schmitt graduated from the University of Southern California's Thornton School of Music. Another notable USC alum is producer and composer Brian Tyler, who has worked on blockbuster films like Avengers: Age of Ultron and Iron Man 3.
Full Sail University has also produced successful music producers, including Grammy-winning engineer Phil Tan, who has worked with artists like Mariah Carey and Rihanna. Another Full Sail alum is producer and songwriter James "JHart" Abrahart, who has written hit songs for Justin Bieber and Camila Cabello.
Berklee College of Music boasts a long list of successful alumni in the music industry, including producer Quincy Jones and film composer Howard Shore. More recent graduates include producer Alex Tumay, who has worked with Travis Scott and Young Thug, and engineer Emily Lazar, who has worked on albums for Coldplay and Beck.
These success stories demonstrate the potential for music production majors to make it big in the industry. With a solid education from one of these top colleges, aspiring producers can learn the skills they need to succeed in a competitive field.
Beyond the Classroom: Opportunities for Hands-On Experience in Music Production at These Colleges
Hands-On Experience is crucial to fully prepare for a career in music production. The colleges on this list offer various opportunities to gain practical experience while pursuing your degree. For example, students at Berklee College of Music have access to 27 recording studios and can work with artists through the school's student-run record label. At Full Sail University, students are immersed in a professional setting with hands-on labs featuring state-of-the-art gear used by industry professionals. Internship programs are also available, such as those offered by New York University's Clive Davis Institute of Recorded Music which partners with major record labels, providing valuable networking experiences and job connections post-graduation.
Outside the classroom, extracurricular activities like clubs and organizations provide additional opportunities for students to hone their skills and network within the industry. Students at Middle Tennessee State University can join WMTS-FM (the college radio station) or participate in live sound setups at events hosted by the university.
Whichever path you choose, it's important to seek out hands-on experience that will set you apart from other graduates when entering into a highly competitive field like music production.
In conclusion, pursuing a music production major in college can be a great stepping stone towards a successful career in the music industry. From top-of-the-line facilities to experienced faculty members and hands-on opportunities, colleges with music production majors offer an exceptional learning experience that can help students achieve their goals.
Whether you're just starting your journey or looking to take it to the next level, choosing the right college for your music production career is crucial. With our comprehensive guide showcasing the top five colleges with music production majors as well as factors to consider before making your decision, we hope this article has been helpful in guiding you towards achieving your dreams.
And if you're hungry for more content like this, make sure to check out our other articles on Music Production and related topics!
FAQ
Who offers music production majors in college?
Many colleges offer music production majors, such as Berklee and Full Sail.
What is a music production major?
A music production major teaches students how to produce music using technology.
How long does it take to complete a music production major?
A music production major typically takes 4 years to complete.
Who can benefit from a music production major?
Anyone interested in music and technology can benefit from a music production major.
What kind of jobs can you get with a music production major?
A music production major can lead to jobs in music production, engineering, and sound design.
How much does a music production major cost?
The cost of a music production major varies by school, but can range from $20,000 to $50,000 per year.